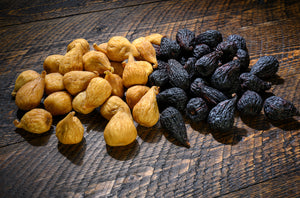 Hi, we're San Joaquin Figs!
We're a third-generation family-owned company in the Central Valley. We're proud to be California's largest dried fig grower-processor.
At San Joaquin Figs, we feel that there is a strong relationship between your farmer and your food.
Know your farmer, know your food.
Meet Our Brands + Products
Nutra Fig
Premium dried figs grown and hand packed in sunny California.
Shop NutraFig
Fignuts
Fun-packed produce fig snack bars made from real fruits and nuts that we grow.

Shop Fignuts
Deseba
Dried fruits and trail mixes grown on family owned and operated farms.
Shop Deseba
Our Family farm
Hi, we're the Jura Family!
Our family has been farming figs in Central California for 4 generations and for more than 100 years. Our family farms are located in the San Joaquin Valley in Central California.
Get to Know us
We're California Grown.
We are proud to contribute to one of the world's most productive agricultural regions.The Central Valley of California is known for its natural resources, fertile land, sunny days and it's hard working labor force. We are honored to provide wholesome fruits and nuts for you and your loved ones. 
Sustainability Every Day.
We are committed to ensuring we are leaving a lasting legacy for generations to come through safe and sustainable farming and manufacturing practices. 
Get To Know Our Figs.
Figs have been farmed for thousands of years. Although considered a fruit, the fig is actually an inverted flower. The seeds are the real fruit in figs.
★★★★★

Delicious and Fresh!

These figs are delicious and fresh. They are soft, moist and sweet. I like that they aren't overly sweet and have a nice texture. Soft on the outside and crispy seeds in the inside. Gluten-free and high in dietary fiber. They are natural and healthy snacks.

Hunter
★★★★★

Dyno-mite dry figs!

Dang addictive. These are unsweetened and perfectly dried. It's an excellent buy. I've been bagging them out to fellow fig connoisseur buds. All agree that they are among the best. They disappear fast.

Sara
★★★★★

Wonderful snack, tasty and healthy!

Dried Figs are a great snack! They're filling and sweet but not overwhelming. The figs are soft and delicious! Fantastic quality!!Figs are a terrific source of fiber and fat free, of course. I love that these are from a minority women owned small business in California. The resealable small bags make it easy to take just one or two figs. We're really enjoying these! Highly recommend!!

New Jersey Foodie
★★★★★

Absolutely Delicious!

These Fignuts are amazing. I love that my kids can have a snack that is both delicious and nutritious without any added sugar. I bought the Berrysplosion and they are amazing - great fig flavor and a burst of blueberry flavor. I love the lingering aftertaste of blueberry. I look forward to more flavors in the future.

Lucy
★★★★★

Perfect On-The-Go Snack!

I've been looking for healthy snacks without a list of crazy ingredients to keep in my purse or the car when running between all my kids activities and these were perfect! My daughter really liked the berrysplosion but I LOVED the cherry pie! Will definitely have these in the regular rotation of food that's great when we're on the go.

Jennifer
★★★★★

Great Flavor!

Ordered this for a snack while working out and used it on a bike ride. Perfect for a quick bite to fuel us through the ride. Tastes great and shared it with the team. They all loved it! Perfect to slip in your pocket or grab one pre-workout or just for a snack! I highly recommend this product!

TJ