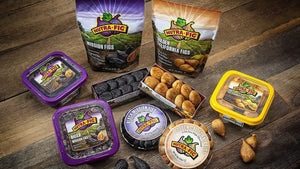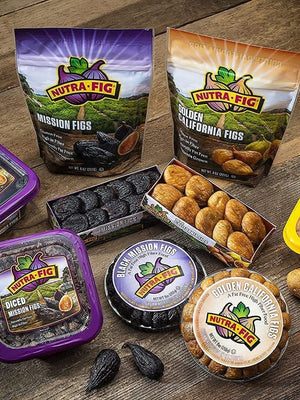 Let our products grow your retail business.
Retail
San Joaquin Figs, Inc. packs a variety of specialty whole fig products, value add fig products like fruit and nut bars and more recently, trail mixes! We take every measure to make sure that our retail packs are the highest quality available and bring a smile to your face every time.
From our attention to detail in the orchard during the growing season and harvest, through the field level sorting and into the production plant, we do everything we can to ensure our product is top of the line. Our products are hand sorted, then electronically sorted, and each lot is tested for quality multiple times before release.
We offer an assortment of retail packs and sizes to meet your retail needs. Contact us for private label options. To order individual retail items, visit our brand product pages.

Crown - 9 oz
Crowns are made from clean, wholesome dried figs grown in California. The figs are naturally sun-dried in the orchard and mechanically harvested. The fruit is sorted and thoroughly cleaned to ensure a sound product. Crowns are hand packed in an arrangement that highlights the natural beauty of the fig. Dependent on availability, we offer Black Mission and Golden California crowns. 24 per case. 15 lb. shipping weight. 100 cases/pallet.
Bag - 8 oz
Enjoy our delicious figs and save some for later with the convenient stand-up zipper pouch! We currently offer Black Mission Bags and Golden California Bags in an 8 oz size.
Tub
Our fig tubs make an excellent presentation for retail configuration. They are carefully packaged in order to showcase our high quality Golden California and Mission Figs. We offer sliced and diced with a coating of your choice and whole figs of both organic and conventional in both varieties packed into tubs.
Panforte
Panforte is an Italian cake made from dried fruits, nuts and spices. This artisan delight is made in California from California Figs, is gluten free, and contains no artificial flavors or preservatives. We offer Panforte in two flavors, Honey Walnut and Cranberry Almond.
Fignuts
The fun-packed produce snack! Fignuts are a snack bar created from the figs and nuts grown on our family-owned farms. We take our naturally sweet dried figs and combine that with crunchy goodness to produce the tastiest, most convenient, yet delicious snack for everyone to enjoy. Fignuts are available in 3 flavors – Cherry Pie, Chocolate Brownie, and Berrysplosion. Contact us for retail packs. 
Contact us about retail sales.