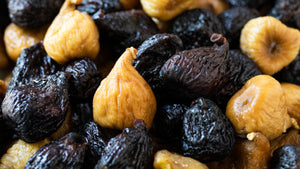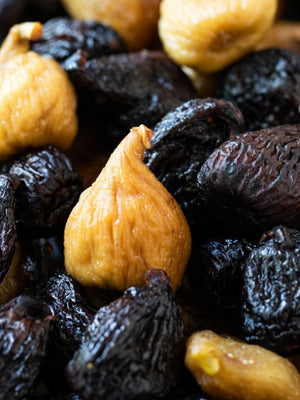 We've got figs to meet all your bulk needs.
Bulk
We produce bulk cases of whole figs for our customers to repack and use in their retail, bulk or manufacturing applications. Many of our products are available as natural and free from preservatives, certified organic, or conventional. We strive to offer the best-in-industry when it comes to both flavor and quality.
At San Joaquin Figs, we take the necessary steps to ensure we only provide products of the highest quality. From our attention to detail in the orchard during the growing season and harvest, through the field level sorting and into the production plant, we do everything we can to guarantee our product is top of the line. Our products are hand sorted before it is electronically sorted, and each lot is tested for quality multiple times before leaving our facility. Most bulk products available are 100% California grown and packed. Imported items are available upon special request. Private label arrangements are also available.

Different sizes of figs may be available depending on variety.
Contact us for pricing and availability.

Whole Figs
San Joaquin Figs offers figs in multiple bulk shipping configurations. Depending on availability, we can offer cases of Missions, Conadrias, Sierra and Tena varieties in both organic and conventional. Ask about our coating recommendations depending on your needs!
Common case weights for whole figs are 30lbs and 5 lbs. Available in:
30 lb cases ship weight - 31.5 lbs, 60 cases per pallet
5 lb cases ship weight - 6.5 lbs, 294 cases per pallet

Sliced or Diced
Diced or Sliced Figs are available coated with things such as dextrose and gluten free rice flour. They are also available as organic. 3/8 inch dice or 3/8 inch slice.
Available in 30lb cases. 
31.5lbs shipping weight, 60 cases per pallet.
Fig Pieces
Fig pieces are extruded fig paste bites that are the perfect addition to baked goods, cereal, or great and convenient just for snacking. The pieces are extruded into a 3/8 inch cylinder which is cut between 3/8" and 3/4" in length and coated. Generally, we coat fig pieces in things such as sugar, dextrose and different kinds of flours to keep them free flowing. We can pack these in multiple weight cases with a food contact poly liner. 
Crumbles
Crumbles are very similar to that of our fig pieces, created with the same ingredients in the same fashion, but cut in a slightly smaller size. The size of these crumbles is 1/4 inch cylinder and cut between 1/6" and 1/2" in length. 
Panforte Cubes
Our panforte cubes are an exciting new innovation! We offer the same flavors in cubes that we offer in our 8 oz discs, Cranberry Almond and Honey Walnut. These cubes are PERFECT for cheese plates, baking into your favorite bread or work great as a pop-able snack! 
Contact us about pricing and availability.